Tumwater – Touching the Mind: Mental and Mood Disorders for Massage Therapists
June 11, 2022 @ 1:00 pm

-

4:00 pm

$75
3hrs CE
This class addresses some of the most common mental health and mood disorders seen in our culture today.
In addition to reviewing some of the pathophysiology and contributing factors to mental health and mood-related conditions, we will discuss common conventional treatment options and what we know about how massage therapy can have the most positive impact for clients who live with these challenges.
In alignment with the newest edition of Diagnostic and Statistical Manual of Mental Disorders (DSM-V), this class will examine various types of depression, bipolar disease, anxiety disorders, PTSD, obsessive-compulsive disorder, addiction, and others as time allows.
The research about the positive effects of massage for mood disorders is strong and consistent, and it is our responsibility to deliver the safest, and most compassionate, and most effective massage therapy our clients can ask for. Don't miss this chance to learn more about the conditions that affect your clients' lives: you'll be a better therapist for it!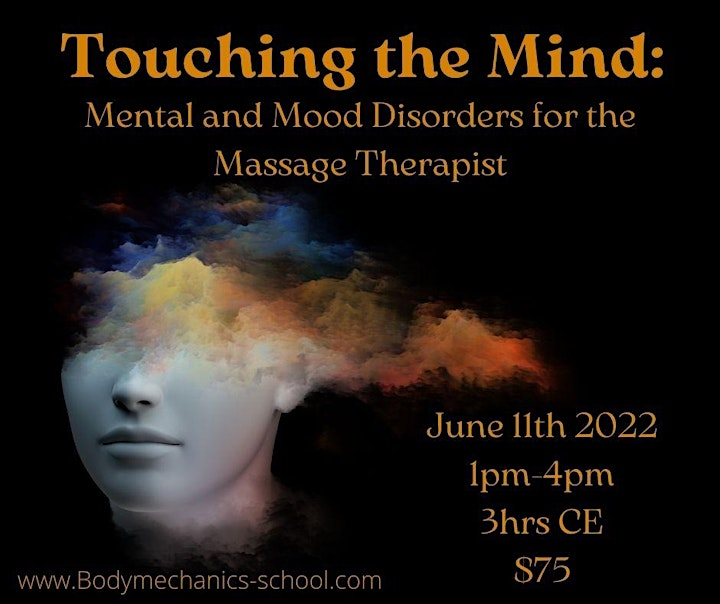 Participants will be able to…
Identify and describe the definition, demographics, etiology, signs and symptoms, and common treatment options for each of the conditions under discussion
Discern the variables that inform clinical decision-making for massage therapy for each of the conditions under discussion
Describe special communication skills that are especially important for clients who live with mental and mood disorders
Describe risks and benefits of massage therapy for each of the conditions under description
Register for the event by clicking this link
Discount for attending all 3 of Ruth's events (Bodytalk 6/10 and both lectures on 6/11). Contact Dawn@bodymechanics-school.com for discount.
About Ruth Werner
Author of A Masssage Therapists Guide to Pathology
I started teaching massage before I graduated from massage school—which is a clue to how long ago that was. With the exception of a hiatus while my children were young, I taught continuously from 1984-2010 at schools in Washington, Massachusetts and Utah. In 2005 I was honored to be chosen as the Jerome Perlinski AMTA Council of Schools Teacher of the Year; I suspect that had a lot to do with how I explain irritable bowel syndrome (hint: my theatre degree comes in very handy in this discussion)."- Ruth Werner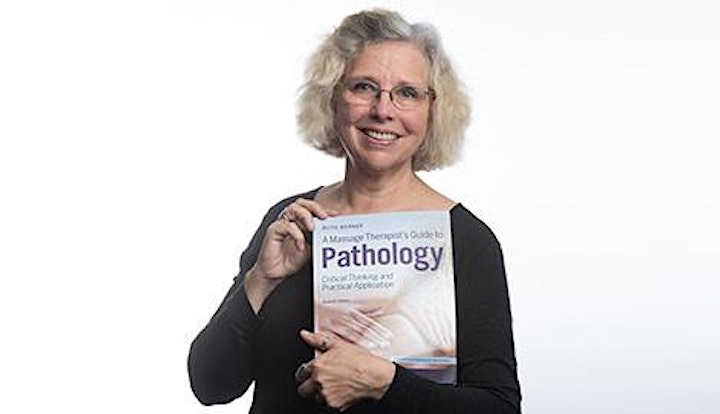 Related Events